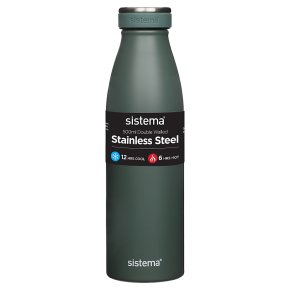 🛒 Sistema 500ml Stainless Steel Bottl 🛒
There are multiple colours to choose from. Please add a note in your basket for the Partner that's picking your order, and we'll do our best to select your preference.
Made from high quality stainless steel that won't rust over time. Phthalate and BPA free. Assorted colours, one will be selected at random.The Sistema® Hydrate Stainless Steel bottle is perfect for school, work, sports and picnics to keep hydrated on the go. Designed with double wall vacuum insulation to encapsulate your beverage temperature for longer, it keeps the liquid 6 hours hot and 12 hours cool.

£7.00